Become Stronger, More Attractive, and Pain-Free
Let's face it; we spend a lot of time sitting.
We sit in the car.
We sit at our desks.
We sit in the car again.
We sit on the couch.  Then we sleep.
Our jobs and lifestyles put us in front of computers rather than on a field or farm performing manual labor. This has created a new type of person.
A crane necked, hunchback-spined, rounded shoulder mopey-dopey weakling.
This is bad.
This type of posture:
Hinders training progress
Increases risk of injury
Is a sloppy and unattractive way to carry yourself
Weak upper backs, hip flexors and hamstrings are the hallmarks of today's man and woman.  This can make it difficult or impossible to squat, deadlift, carry an unconscious man from a burning building, or do much of anything useful with your body.
.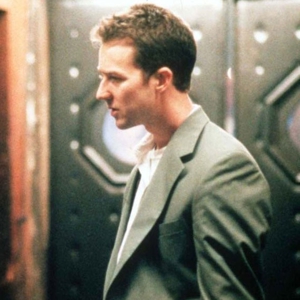 .
In the movie Fight Club, Tyler Durden explains his existence,
"I look like you wanna look, I fuck like you wanna fuck, I am smart, capable, and most importantly, I am free in all the ways that you are not."

He really could have just said:
"I have stronger rhomboids, posterior delts and spinal erectors because I do five minutes of mobility work per day to maintain this posture — the posture that fuels my larger than life persona and has caused teenage boys worldwide to covet my 6'0″ 155 pound string bean physique."
Okay, maybe that is slightly facetious.  But, the contrast between Norton's perma-slouch and Pitt's powerful posture is one of the ways Fight Club showcases the difference between who you are and who you want to be.
.
Can this really be fixed in only five minutes per day?
Answer: It's a great start.
Mobility work alleviates pain and prevents injury associated with both exercise and everyday living.
It's not sexy. And it doesn't produce direct results – like dropped pant sizes or torn shirt sleeves.
But it is incredibly important.  And you will see and feel the results.
Here are five basic movements that focus on correcting the classic sit too much problems that burden us all.
.
UPPER BACK FOAM ROLLING
This is a form of myofascial release which I'm not sure technically falls under the "mobility" umbrella, but it fixes bad posture.
Most gyms have foam rollers.  If not, you can pick one up for $30 at a sporting goods store or buy a piece of pvc pipe at Home Depot for cheaper.
Keep the foam roller on your upper back at all times; don't let it venture to your neck or lower back.  Roll slowly up and down for 5-10 reps while supporting your head with your hands. If part of your back feels tender, pause there for a few seconds.  This might be a little bit painful, but that's good.
.
SHOULDER DISLOCATIONS
Shoulder dislocations will fix your hunchback posture.  They are also a great warm-up for your pushing moves – bench press and overhead press specifically.
Now, you can use a broom or thin pvc pipe, but I would recommend starting with a band.  Definitely do not use a barbell or anything too heavy.
Take a wide grip to begin, and complete the movement when the band or pipe hits your lower back or butt.  The more narrow your grip, the more difficult this will be.
Start with one set of 10 repetitions, and work your way up to 3×10.
.
SIT IN SQUAT ASSISTED / UNASSISTED
Here is a move to help our hip mobility; God knows we need it the way we treat those things.
This is easy; just sit in the bottom of a squat.  Feel free to move around from side to side a bit.  Keep your core and upper back tight like you would during a normal squat.
You can begin with the assisted version.  After you feel a bit looser, go ahead and let go.
Do whatever you'd like with your hands; put them on the back of your head or point them straight up in the air.  Some people like to use their elbows to push their knees out.
.
ELEVATED FOOT HIP ROCK
This is great for stretching the hip flexors, one of the most badly abused victims of the sittin' all day lifestyle.
There isn't much to explain beyond the video; rock gently forward and back so you feel a nice stretch in your hip.
.
WALL SLIDE
Wall slides activate your lower traps and also give your chest and front deltoids a nice stretch.
Press your head, back and butt against a wall; press your elbows and the backs of your hands to the wall.  Tuck your chin down and slide your arms up and down with your forearms perpendicular to the ground throughout the movement.
In Closing
Alright, am I really telling you that five minutes of mobility work will improve all of your lifts, prevent you from getting hurt, reduce pain, AND take you from
THIS
.
TO THIS?
.
Well, yes.  Yes, that is what I'm saying.
+++++++++++
WHAT'S YOUR FAVORITE MOBILITY MOVE?  DID YOU LIKE THIS ARTICLE? DOES BRAD PITT EVEN LIFT, BRO?
Tell me your thoughts in the comments below!
.
Share
Comments for This Entry